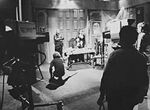 Marins directed and hosted The Show from the Other World (Um Show do Outro Mundo) on Rede Record de Televisão, Channel 7, presented on Saturdays from 11 pm to 1 am, with Mojica personifying Coffin Joe. The program featured several horror short-films during the half-hour program, with many of the stories sent in by the viewers themselves and adapted by members of Marins' production team. The original tapes were reused and there is no record of this material.
Ad blocker interference detected!
Wikia is a free-to-use site that makes money from advertising. We have a modified experience for viewers using ad blockers

Wikia is not accessible if you've made further modifications. Remove the custom ad blocker rule(s) and the page will load as expected.