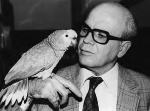 Rubens Francisco Luchetti (b. 1930) prolific Brazilian pulp fiction writer specializes in tales of horror and mystery, but works in various genres. He scripted the main films of José Mojica Marins from 1968, many of them unfinished, as well as comics, TV series and radio programs. He scripted The Secret of the Mummy (1981), The Seven Vampires (1986) and a Werewolf in the Amazon (2005), and the most important features of director Ivan Cardoso[1][2].
Writer
External links
Edit
References
Edit
Ad blocker interference detected!
Wikia is a free-to-use site that makes money from advertising. We have a modified experience for viewers using ad blockers

Wikia is not accessible if you've made further modifications. Remove the custom ad blocker rule(s) and the page will load as expected.