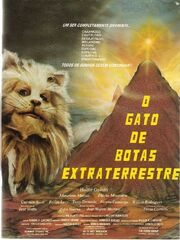 Puss in Boots Extraterrestrial (original title: O Gato de Botas Extraterrestre) is a 1990 Brazilian comedy film directed by Wilson Rodrigues.[1] It is the third film in the series No Mundo da Carochinha.
An alien cat, very smart, invented a thousand lies to make its owner, a poor peasant, rich , so to win the heart of the princess.
Heitor Gaiotti as Puss in Boots
Maurício Mattar as Masquês de Calabar
Flávia Monteiro as princesa
Jofre Soares as Mago Mal
Nena Camargo as Rainha
Tônia Carrero
Felipe Levy
José Mojica Marins
Zezé Motta
Carmem Silva
Tony Tornado
References
Edit
Ad blocker interference detected!
Wikia is a free-to-use site that makes money from advertising. We have a modified experience for viewers using ad blockers

Wikia is not accessible if you've made further modifications. Remove the custom ad blocker rule(s) and the page will load as expected.